10 Interfaces  –  11 Protokolle  –  650 + Hersteller
KNX
KNXnet/IP
Modbus RTU
Modbus TCP
ekey home
ekey multi
IFTTT 
UDP/TCP
Visu
Logik
Grafana
Time series
1 Server - 1 APP - 12 Protocols
KNX
KNXnet/IP
Modbus RTU
Modbus TCP
ekeyhome
ekey multi
IFTTT
UDP/TCP
Visu
Logik
Grafana
Time series
Simply call it up with the browser. Independent of the operating system.
Just take what you already have.
Click on what you want.
Fully graphic. No console.
Deutsch / Englisch / Französisch.
Mit zwei Klicks – kein Reboot.
Several sessions in parallel.
Each user in his or her own language.
Benutzerverwaltung.
TLS 256 bit encryption.
Freely adjustable - Multiple instances - Many designs
Works with any browser. Independent of the operating system.
Thus, free choice of the terminal.
Multiple instances in parallel.
So that grandma sees something different from mommy.
TLS 256 bit encryption.
durch Timberwolf Reverse-Proxy.
Evaluate logs and time series with billions of entries
Pre-installed and parameterised. The database and the graphic analysis tool.
Simply record and evaluate every data point, with just a few clicks.
Record data in series.
Billions of times.
Evaluate in dashboards.
In Visualisierungen einbinden.
Alle Datenpunkte untereinander sowie
mit Logik, Visu und Aufzeichnung verknüpfen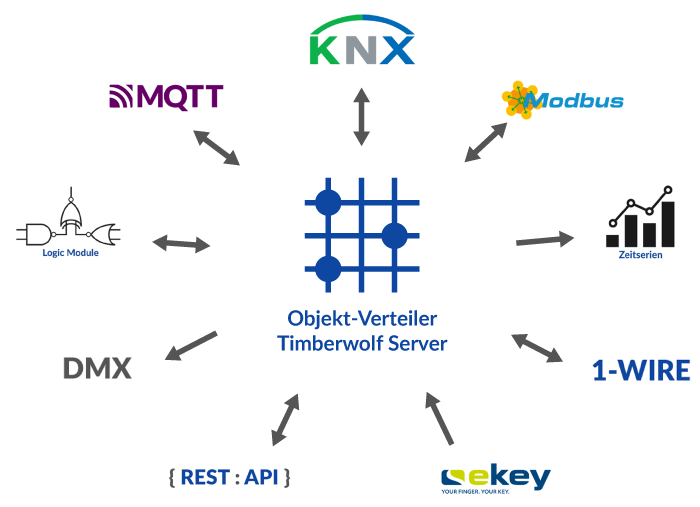 Datenpunkte beliebig verknüpfen
Daten zwischen allen Technologien austauschen durch Verknüpfen untereinander.
Nur für Berechnung, Steuern und Regeln über die Logik verbinden.
Datenpunkte untereinander in 1:N / N:1 / N:N verknüpfen. Alles erlaubt.
Keine künstlichen Grenzen
4.250 Modbus Objekte mit 1.860 KNX Objekten verknüpfen? Kein Problem.
Datenpunkte verschiedener Typen werden automatisch konvertiert.
Nur Datenpunkt mit Zeitserie
verknüpfen. Fertig.
11 Protokolle  –  650+ Hersteller  –  Alles da